You've probably heard of 3G, 4G, 5G and Wi-Fi. In today's increasingly mobile world, there are a variety of ways to get connected to the internet. What's really the most reliable and safest way? Truth be told, in-building wireless is the most secure option and the only technology your customers can reply on to call 911.
WHILE WI-FI CAN OFFER CONNECTIVITY, IT MAY COME WITH A PRICE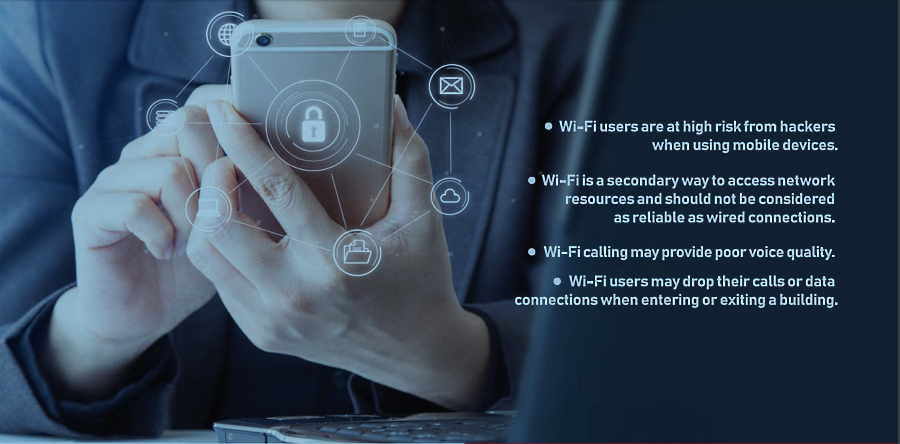 | | |
| --- | --- |
| WIFI NETWORKS ARE NOT ENOUGH | WI-FI IS NOT RELIABLE FOR 911 CALLS |
Imagine your loved one at work needing medical attention or your child in their dorm room when a life-threatening event occurs. These are real-life scenarios that most people do not even consider when entering a building. When events do occur, there is an expectation of reliable connectivity to call emergency services.
A smartphone is the primary communication device used in critical situations and that is not the time to be searching for Wi-Fi access. Although most Wi-Fi networks are reliable enough for day-to-day. business operations, it should not be relied upon for contacting emergency services. Subsequently, since most buildings have poor cellular connectivity, there needs to be a permanent solution. A cellular DAS installed by TELECO will provide the necessary coverage and user capacity required in times of need, giving callers peace of mind that they will get help. And building owners can feel good about providing a level of service that can save lives and help avoid possible litigation.
INSTALLING A DISTRIBUTED ANTENNA SYSTEM HELPS TO ENSURE THE SAFETY OF THE BUILDING'S OCCUPANTS.